Cultural Association of Sarti "Afisia"
The custodian of the tradition, manners and customs of our place.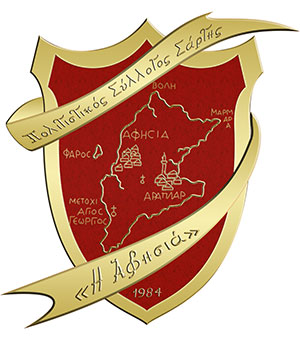 The Sarti Cultural Association "Afisia" was founded in 1984 by descendants of Afisian refugees. Sarti (Nea Afisia), is an ancient city that was reborn after the arrival of the Afisian refugees. Sarti is one of the 27 settlements of Chalkidiki, created by refugees after the Asia Minor Catastrophe.
The main purpose of the association, as it is stated in its statute, is: "the preservation, collection and promotion of the historical and folklore material of the tradition, customs and traditions of our Asia Minor origin. With events, the creation of a library and exhibitions".
Today the Association has about 300 members and consists of two main sections. The Department of Folklore and the department of traditional dances. Other sections are created from time to time, such as the Theatrical Group to meet the needs of the events, but also music and modern dance sections when there is interest from the public.
Department of Traditional Dances
It consists of six dance classes, with over 90 dancers of all ages, who are taught dances from all regions of Greece with special emphasis on those of Asia Minor.
It has a wardrobe with dozens of traditional costumes which is constantly enriched.
It worthily represents and promotes our tradition by participating in cultural events in many cities and villages of Greece.
Department of Folklore.
He has collected and studied hundreds of photographs, dozens of historical documents, books and objects on display in the rooms of the Historical Folklore Museum he has created.
With continuous interviews and research, he records manners, customs and songs in order to preserve and publish them.
Events
In addition to his continuous participation in events of other organizations, he also hosts in Sarti (Nea Afisia), dance groups of other clubs from different parts of Greece, thus developing strong bonds of friendship and cooperation, organizing various events every year.
Eg:
Three-day events for the "Birthday of Sarti" (December)
The feast of Agios Georgios (in memory of Agios)
Cultural events for the Fifteenth of August (13-15 August)
The Meeting of Cultural Associations (second Saturday of September)
We continue to believe that now, more than ever, it is imperative that we fight in every way to preserve the tradition of our place and our origin. A minimal tribute to our ancestors who left us this legacy and to future generations who will inherit it.
Finally, we hope that in Sarti, there will always be people who will be interested in their place and will do everything in their power to advance it.
For the Board the president
Petsavas A. Nikolaos